SYLCOM
Tomorrow's software, now available!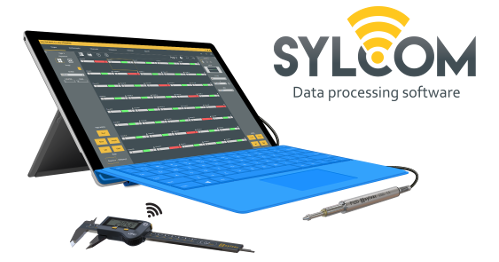 Processing of Sylvac instrument values connected via USB and/or by Bluetooth.
Several different measurement sequences and programs to be customized
Connection of up to 16 instruments
Several user accounts and customized access rights, ease of use and simplicity!
Version Lite - 1 instrument connected
Free of charge

Yes, I want to try
Version Standard – 16 instruments connected
30-day free of charge trial period

Yes, I want to try
At a time when the industrial world is in the throes of setting up so-called intelligent and connected factories (Industry 4.0), SYLCOM allows you to bring innovative solutions to meet the challenges of tomorrow.
The progressive concept of our new software application will enable you to add different packages to the standard version and benefit from additional functionalities that will meet your specific needs.
Each package will require the purchase of a licence as a USB dongle (which will enable our software to be used on different computers). You can evaluate our software free-of-charge for a 30-day trial period before deciding whether to purchase it. If you have already purchased SYLCONNECT and wish to migrate to SYLCOM, you will benefit from a special price offer on the STANDARD SYLCOM licence.

SYLCOM LITE
The LITE version is limited to one instrument and one pedal. It can be downloaded from our website and does not require a licence.

SYLCOM STANDARD
Connection of 1 to 16 Sylvac instruments, but to a maximum of 8 Bluetooth instruments (including 1 Bluetooth pedal)
Creation of unlimited channels and pages
Option to download a background design for a better ease of use
Customization of user profiles as well as software interface
The standard version can be downloaded from our website and used for a trial period of 30 days without a license
And coming soon for you:
Additional modules to connect more instruments
Enhancement of functions and creation of inspection plans
Advanced statistic functions
And much more!