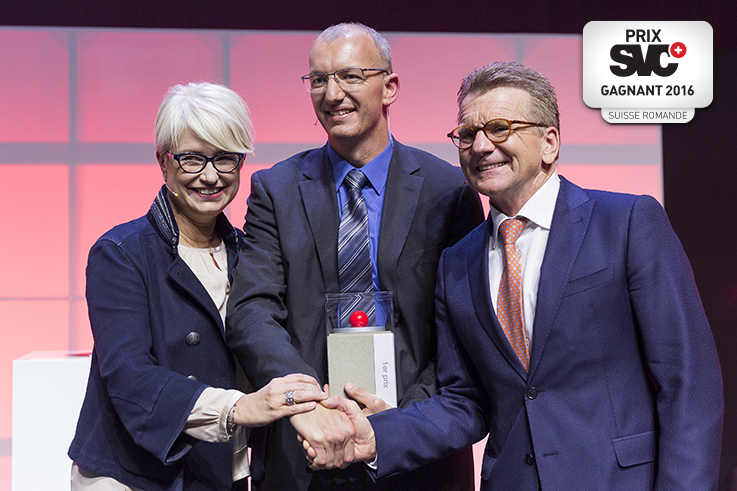 We are proud to announce that SYLVAC was awarded by a panel of 17 independent experts as the winner of SVC 2016 (Swiss Venture Club), rewarding the best French-speaking SMEs of Switzerland. Over 1000 people were at the Swiss Tech Convention Center in Lausanne to attend this 2016 award. The winner is designated regarding criteria of innovation, corporate culture, its commitment to the regional economy, but also results in terms of employment and turnover, which is to our credit.
Details
Read more: SYLVAC named best SMEs in western Switzerland in 2016
IMTS – International Manufacturing Technology Show, one of the largest machine tool shows in the world with over 2,000 exhibitors spread over 121,000 square metres, attracting more than 115,000 visitors every 2 years. Sylvac represented by Fowler Precision in North America, displayed a range of Sylvac products, not only on the booth but duplicated in their mobile tech centre, which was parked directly on the booth!
Taking centre stage and attracting huge interest was the ever popular Sylvac-Scan 52 optical shaft measuring centre, coupled with a robot to demonstrate an automated process capable of making a complete dimensional inspection including loading, unloading and classification in only a few seconds.
Details
Sylvac, a training company which also forms part of the training subsidiary for precision mechanics comprising 7 companies in the region, supports and encourages vocational training.

This is why, at the start of the new academic year, we are offering instrument kits for apprentices at attractive prices in order to train future production and precision mechanics and other technicians in the best possible conditions.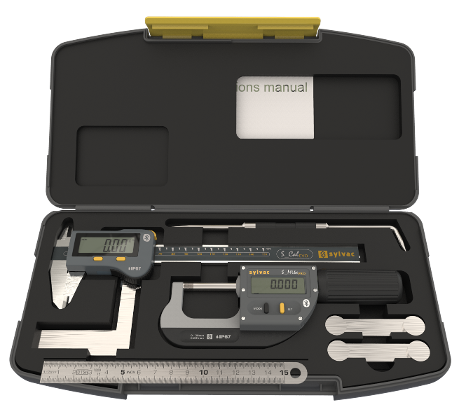 Swiss Made instruments, protected against water and cutting oils and supplied in wired or Bluetooth versions with a range of accessories, are available in a choice of 12 different kits.
Please consult our leaflet for more information.



Details
Sylvac is proud to announce the launch of our brand new D70A air units dedicated to air measurement.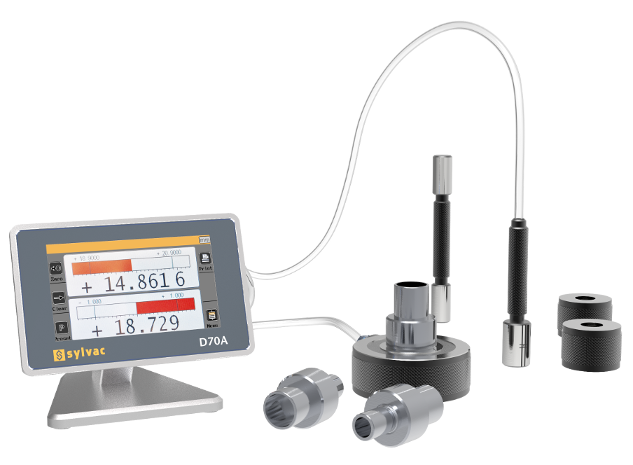 Based on the same concept of the D70 Series compact touch screen units, our new D70A units are compatible with most of the brands of air gages, offering unrivaled ergonomic and revolutionary control solutions for all air measurement applications.

Fast and easy setting, just connect the air input to the unit and start to measure; effective values are displayed on the screen and are extremely easy to export to Excel or to any Windows software (SPC).
Details
Sylvac is proud to announce that the management system of our company has been assessed and certified as meeting the requirements of ISO
9001:2015 for all the following activities: Design, development, manufacturing, marketing, sales, distribution, installation and associated services (repair, supply of spare parts) for dimensional measuring devices.
ISO 9001:2015 sets out the criteria for a quality management system and is the only standard in the family that can be certified to. This standard is based on a number of quality management principles including a strong customer focus, the motivation and implication of top management, the process approach and continual improvement.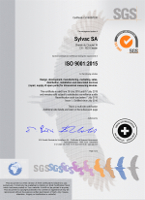 Details