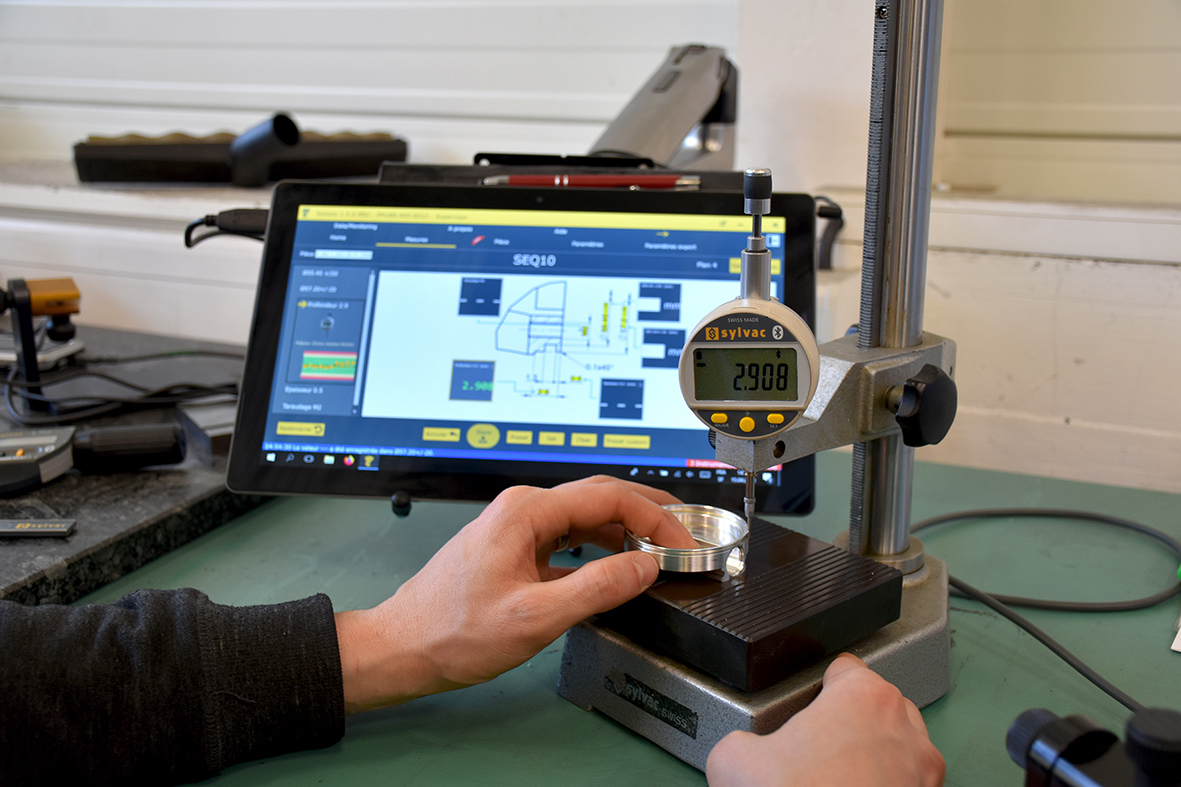 Background :
Sylvac is a Swiss manufacturing company specialized in the design, production, and distribution of high precision dimensional measuring instruments. In its factory in Malleray, in French-speaking Switzerland, mechanical components of Sylvac hand-held instruments are produced on machining centers.
To facilitate, simplify and optimize quality control processes, Sylvac Malleray has implemented Sylcom software in its manufacturing processes in 2020. Sylcom is a data processing software specially designed for data acquisition and monitoring in workshop environments.


Challenges :
Before the introduction of Sylcom, quality control data was acquired with the good old pen and paper method, while the operator was following a printed and static control plan. All data collection was done by hand and transferred to an excel sheet at a later stage, which was a lengthy and complicated procedure, prone to human errors. A misreading of an instrument or a wrong transcription of value on paper could potentially only be identified during the final inspection – which could lead to the scrapping of an entire production run.
Quality reports would also pile up and clutter the workshop while waiting to be transferred to Excel, making it difficult to access information in real time when requested by customers or management.
Moreover, static control plans provided to the operators were not necessarily easy nor practical to follow especially for new team members not accustomed to the part to be measured.


Solution :
The production floor in Sylvac Malleray implemented Sylcom to facilitate fast and reliable data acquisition via their connected instruments. At the push of a button, the data measured is instantly transferred and stored to a database and can later be exported if needed: no more paper, pens, and manual transcription into Excel.
Sylcom also offers the possibility to upload dynamic control plans, assisting and guiding the operator step by step with an optimized sequence of measures. This sequence can either be based on the particular part to be measured or the most time-efficient use of measuring devices (e.g: the digital control plan guides the operator to measure all characteristics requiring the use of a caliper, and then all the characteristics of the part requiring the use of a micrometer)


Result :
Sylcom has become an essential software that is being used daily in the workshop. In-production quality control is now done faster, and more reliably; Sylvac has also significantly reduced its scraps.
Moreover, the monitoring option offered by Sylcom allows to keep track of the evolution of a particular characteristic over time and batches even when within tolerance limits. This makes it possible to identify unstable characteristics that require more attention and corrective actions which is especially useful to production manager, Josian Furer, who added:
"Sylcom is a great piece of equipment for our operators who can feel at ease knowing the software assist and guide them during every measuring operation, reducing greatly possible human errors. The software also facilitates operator judgment by clearly indicating the tolerance status of each characteristic. As for me, it offers useful monitoring options on all my production lines easily accessible from my office."
In summary, Sylvac production benefited greatly from the introduction of Sylcom, from fewer human errors, time-saving processes, and scrap reduction leading to cost savings, while allowing proactive actions on unstable characteristics.
Quality is of the utmost importance for Sylvac and through the right people, right tools, and the right software, Sylvac remains one of the worldwide leading companies in its industry.