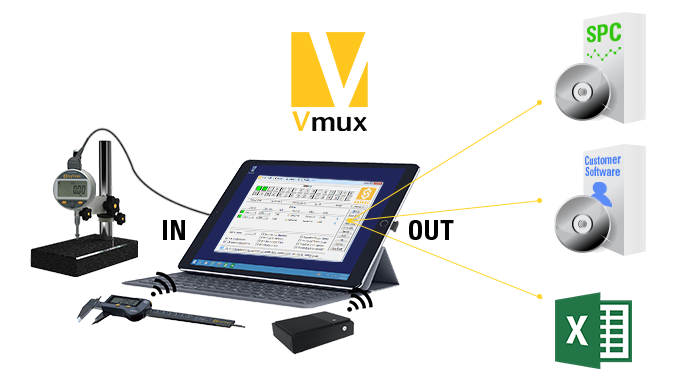 Our multiplexer software Vmux, allowing to assign a COM port to instruments connected by wireless Bluetooth® transmission of by USB cable and to redirect their values to any Windows software (SPC or other) is constantly improving.
This user-friendly software is an excellent replacement for the still often used multiplexer boxes and is the perfect ultimate gateway tool for your data.
In addition to data export in any Excel file, the definition of sequences and the multi-gage mode, we have recently optimised the 1.43 version:
• Bluetooth® Instruments connection three times faster than before.
• Channel activation by instrument auto detection.
• Access to stored configurations (shared file on PC) in case of user change.

Vmux exists in free version LITE, limited to one instrument and one footpedal (download on our website) and in full version with the possibility to connect up to 32 instruments (max. 16 instruments with Bluetooth technology®)
Don't wait any longer to test Vmux and contact your local agent to get more information.