Highlights of Control in 2016
Considered the Mecca of Metrology, the Stuttgart Control show has again justified its reputation!
All of the best in the field of measurement and control was presented during the 4 days of the event, which as usual has been a great and popular success.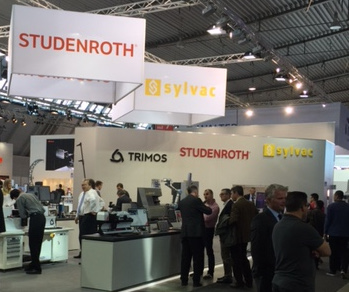 Our joint stand Sylvac-Trimos-Studenroth (our general agent for Germany) attracted many visitors who came especially to attend the presentation of our optical measuring machines SCAN 52 equipped with a robot for operating the control and sorting completely automated.
Our new measurement system VISIO, presented for the first time with a new HD camera and an innovative operating system, has also aroused great interest. In the field of high precision, our new P10 probe, currently in final stages of development, has generated an incredible number of requests, proof that our customers are increasingly demanding solutions for high-end measurement. In summary, Control 2016 confirms the good health of German industry and the growing interest from our customers for our Bluetooth line of instruments as well as for all the innovations that improve their quality control. A big thank you to everyone who visited us!