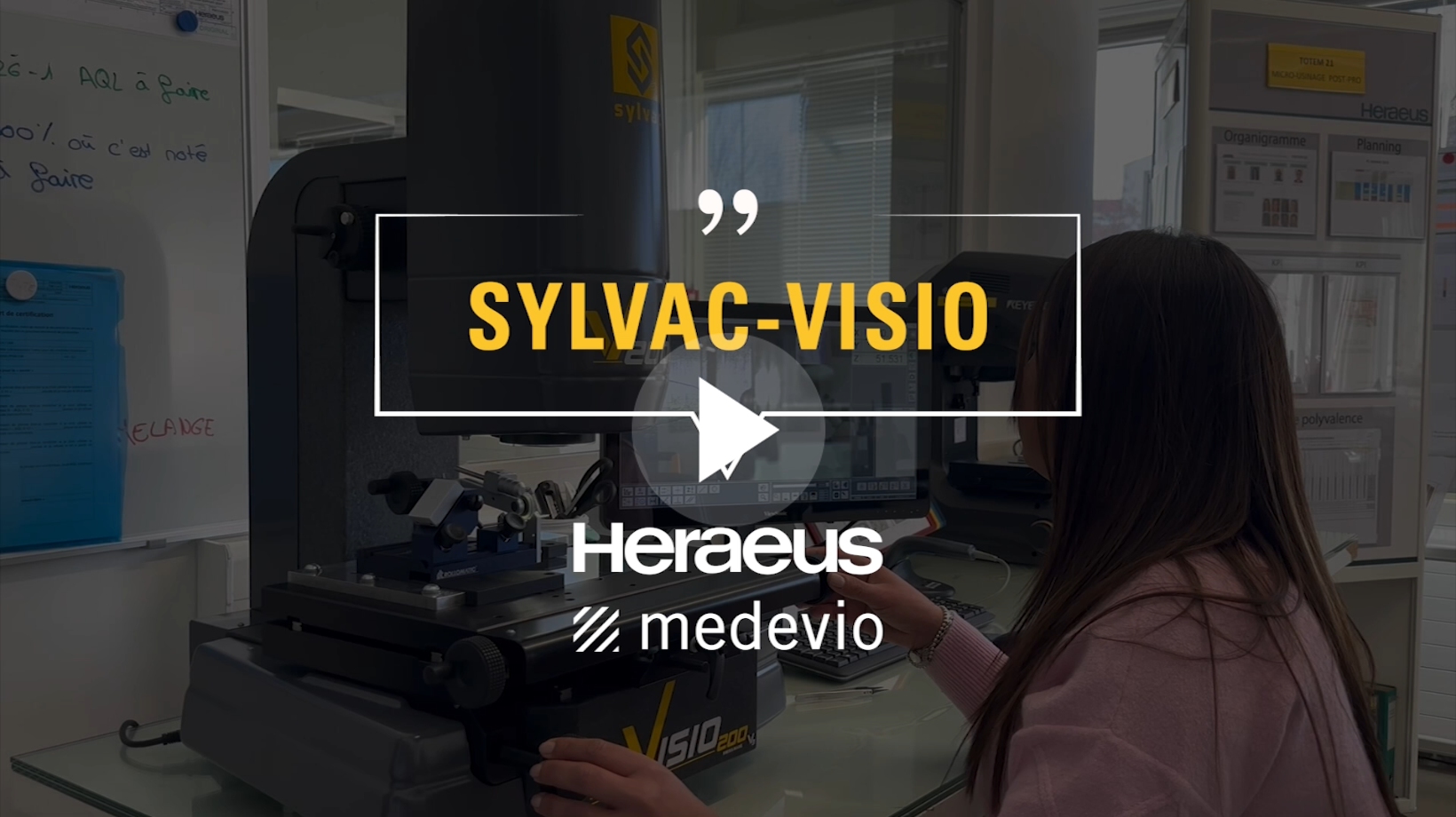 Customer Testimonials : Sylvac-Visio at Heraeus Medevio
We are thrilled to share our very first testimonial video featuring Heraeus Medevio, a renowned company in the medical industry, nestled in the industrial heart of Ville d'Yverdon-les-Bains, Switzerland. Heraeus Medevio has adopted our Sylvac-Visio machine on their production floor and in their post-processing laboratory.
In this testimonial video, you'll hear from Loic Mermet, Project Manager at Heraeus medevio, along with Daniel Cruz, a talented Micromechanic/CNC Setter, and Jessica Milheirao, a dedicated Team and Calibration Manager. These remarkable individuals will take you through their experience with the Sylvac-Visio machine and the impact it has had on their daily operations.
Precision That Matters: The medical field demands unparalleled precision, especially when it comes to inspecting components that are vital to patient well-being. Heraeus medevio, a true champion of quality, understands the significance of strict tolerances where every micron counts. With the Sylvac-Visio machine, they have the power to detect non-compliance issues and ensure the utmost safety and reliability for patients.
User-Friendly Excellence: Ease of use is a fundamental aspect of any great instrument. Heraeus medevio has been captivated by the exceptional user-friendliness of the Sylvac-Visio machine. With its intuitive features and straightforward interface, the learning curve becomes a thing of the past. Their team has been able to harness the machine's full potential quickly, streamlining their operations and achieving outstanding results.
Unparalleled Precision and Clarity: When it comes to precision measurement, the Sylvac-Visio machine truly stands out. Its remarkable repeatability and crystal-clear imaging capabilities have impressed the team at Heraeus medevio. What's more, this non-contact measurement solution ensures that no marks or damage are left on the parts being measured—a game-changer for their meticulous medical components.
We would like to extend our deepest appreciation to the entire team at Heraeus medevio for sharing their story with us. This video is a testament to the transformative impact of the Sylvac-Visio machine in the medical industry, where precision and reliability are paramount.
📽️ Are You Ready to Share Your Journey? To all our amazing users, we invite you to be a part of our success stories. If you have experience using our instruments and would like to showcase your achievements, we would be honored to feature you. We also encourage our Sylvac distributing agents to recommend clients whose stories deserve to be heard. Connect with Aurélie Lambruschini and let's inspire others with your journey.