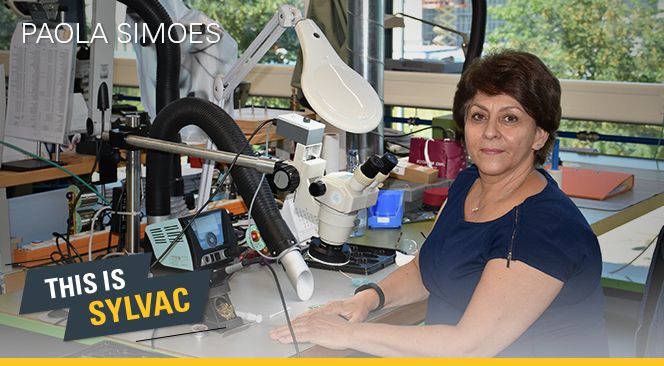 This is SYLVAC #7
" I love my job and the people here " - Paola 25 years in the business at Sylvac "
Paola Simoes has a smile on her face. After 25 years at Sylvac, she is finishing her professional career and is leaving to travel for a few months. She will also take care of her little girl full time and take time for her family.
However, Paola also leaves with a heavy heart: "We spend more time at work than at home, I've been lucky enough to love my job and the people here. "Paola has contributed to the making of thousands of Sylvac instruments over the past 25 years.
Initially hired in the gauging department in 1995, she switched to bounding before moving to the pick and place where she uses the robot on a daily basis. She solders, programs the printed circuits and controls the quality of the products that she has seen greatly evolved (especially precision and quality, she says) over all these years.
"I appreciate being autonomous and the operations that I am entrusted with are varied. It's very interesting. But I also appreciate my colleagues, who I will miss a lot. I was a bit of a mother to all of them in the workshop." Nostalgia had already set in a few weeks before her departure but it's decided, as with those who have already left before, Paola and her colleagues will keep in touch and will meet regularly to share special moments, this time outside the company.