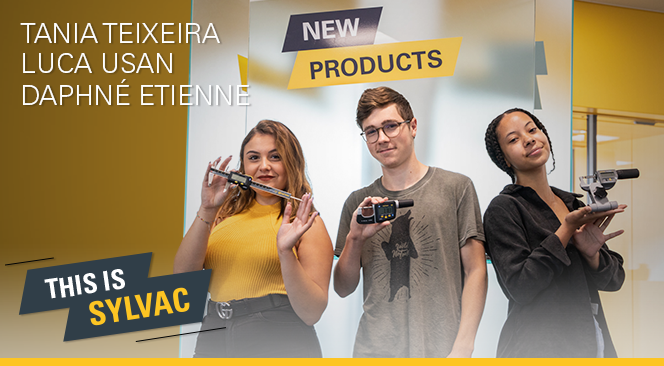 This is SYLVAC #5
In training at Sylvac and already brand ambassadors
Tania 18 years old, Luca 18 years old and Daphne 15 years old have chosen to start their professional life at Sylvac.
They learn the job of commercial employee, he learns that of mediamatician. They welcome visitors, guide them on the phone or on site, and are also in contact with suppliers and customers for various questions. He does video editing, participates in the creation of visuals for the website or user manuals.
Tania is the most experienced since she has been with Sylvac for 4 years and is in her last year of apprenticeship: "I am still 1 day a week at school and the rest of the time at the company. What I like here is that we have access to all departments and that we are supported and very well supervised. I'm in contact with a lot of people, I love it when things are moving all the time.
Concerning Daphne, she has just arrived in the purchasing sector and is gradually gaining confidence. "It's intimidating to come to a big company, but I'm lucky: everyone is nice to me. If my trainer is busy there is often someone to help me or answer my questions and it reassures me that Tania is still here for the moment. »
Luca always liked the technique and was already doing video editing when he was younger. His training lasts 4 years and this is his second year at Sylvac. He got to know the company and its instruments by working on documentation. "At school or for my friends I had to explain what digital measuring instruments were. They had no idea that I could work in an industry that was so full of production and innovation. »
For Tania, Luca and Daphne, it's a big change to go from school to the industrial world. "Everything is new and different; we are no longer only with people our own age. But the spirit of solidarity that reigns here has really facilitated our integration."